64 Embarrassing Movie Roles Famous Actors Would Rather You Forget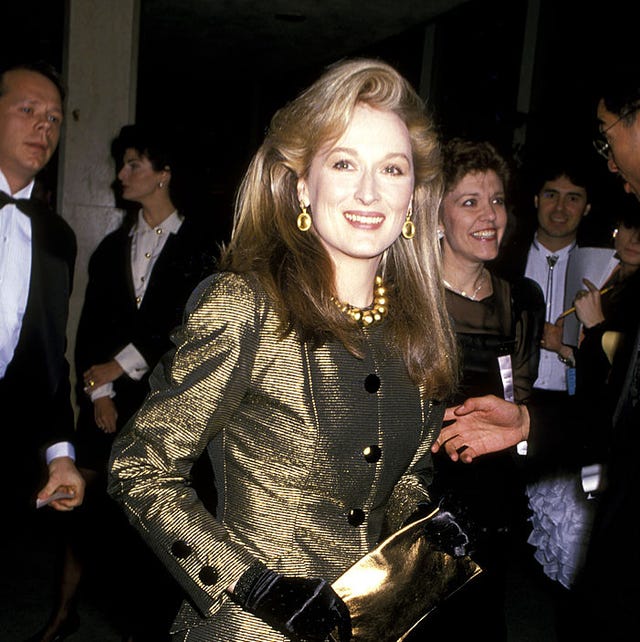 Getty Images
If an actor is lucky, he or she will make dozens of movies over the course of their career. There is, however, no guarantee that every role will be a ~hit~ or even remotely good (remember Glitter?!?!). Some of Hollywood's biggest names—from Denzel Washington to Julia Roberts—have at some point been involved in a project that turned out to be…a lil meh. Here are 65 roles that those in the Hollywood elite would probably rather you forget forever.
1 of 64
Gal Gadot: Natalie, Keeping Up With the Joneses
With a star-studded cast—including Jon Hamm, Isla Fisher, and Zach Galifianakis—Gal Gadot wasn't the only celebrity to sign up for this box office stinker.
2 of 64
Leighton Meester: Jamie, That's My Boy
After her rise to fame on Gossip Girl, Leighton Meester moved on to movies. Unfortunately one of those films was Adam Sandler's flop of a movie called That's My Boy.
3 of 64
Seth Rogen: Aaron, The Interview
When political satire comedy The Interview was released, it not only stirred up the critics, but it also caused an international incident between the United States and North Korea. NBD.
4 of 64
Julia Roberts: Daryle, Satisfaction
This 1988 musical drama failed to earn $1 million at the box office. Even though the movie wasn't a hit, it *was* Julia Roberts' first credited acting role, so she gets a pass.
5 of 64
Harrison Ford: Allie, The Mosquito Coast
In the 1986 film, Harrison Ford played a character whose idea of moving his family to a utopian island doesn't pan out. In reality, it was the Star Wars actor's film that didn't pan out. Ouch.
6 of 64
Kate Hudson: Marley, A Little Bit of Heaven
It was anything but heaven for Kate Hudson when the actress appeared in the flop A Little Bit of Heaven. The filmed was panned by critics and moviegoers alike.
7 of 64
Will Ferrell: Nick, Everything Must Go
Will Ferrell strayed away from his go-to comedy genre when he starred in the drama Everything Must Go. Something tells us he won't be doing that again.
8 of 64
Matthew McConaughey: Dirk, Sahara
Matthew McConaughey has been in his fair share of flops (ahem, Failure to Launch), but his 2005 action film Sahara took things to a whole new level when it failed to make up for its $160 million budget at the box office.
9 of 64
Kelly Clarkson: Kelly, From Justin to Kelly
Fresh off of her American Idol success, Kelly Clarkson and the show's runner-up, Justin Guarini, were named winners of another competition: a Razzie for worst musical for their film From Justin to Kelly.
10 of 64
Terrence Howard: Timothy, Glitter
The Empire actor announced he was retiring from acting in 2019. We shouldn't assume it has anything to do with his role in Glitter, right?
11 of 64
Kevin James: Paul, Paul Blart: Mall Cop 2
Kevin James made audiences everywhere laugh to tears on his segway in Paul Blart: Mall Cop, but he lost us when Paul Blart returned for a sequel.
12 of 64
Anna Faris: Samantha, Just Friends
Anna Faris has been cast in some of the biggest comedy hits of the decade, but Just Friends was not one of them. This movie has since gone on to earn a special place in our hearts though.
13 of 64
Amanda Peet: Mia, Whipped
The 1999 comedy was panned by reviewers and hated by audiences. Thankfully, Peet righted her movie karma by starring in the 2003 hit Something's Gotta Give.
14 of 64
Anne Hathaway: Josephine, The Hustle
We had high hopes for Anne Hathaway and Rebel Wilson's collaboration in The Hustle. But all hope was lost when the Oscar winner appeared on-screen with a bad British accent. It went downhill from there.
15 of 64
Dan Stevens: Charles Dickens, The Man Who Invented Christmas
Sure, everyone loves Christmas, but not everyone was a fan of Dan Stevens in The Man Who Invented Christmas. The Downton Abbey actor starred as Charles Dickens in the December release, which performed…how do we put this…horribly in the box office.
16 of 64
Tessa Thompson: Esme, The Initiation of Sarah
Critics did not love this made-for-TV movie where Thompson played a sorority vice-president.
17 of 64
Robert De Niro: Fearless Leader, The Adventures of Rocky and Bullwinkle
De Niro voiced a cartoon dictator in this opposite-of-beloved movie version of the classic cartoon series.
18 of 64
Sigourney Weaver: Vicky, Crazy on the Outside
Tim Allen must have called in a favor to get Weaver to star as his sister in Crazy on the Outside, his panned directorial debut.
19 of 64
Paul Rudd: Ian, Gen-Y Cops
If you've ever wanted to see Paul Rudd in a 2000-era sci-fi cop movie from Hong Kong, look up his role in Gen-Y Cops. Or don't.
20 of 64
Viola Davis: Grandma, Get Rich or Die Tryin'
First of all, how dare anyone cast Viola Davis as a grandmother. Second of all…she was really in 50 Cent's 8 Mile knockoff.
21 of 64
Chris Evans: Johnny Storm, Fantastic Four (2005)
Before he was Captain America, Chris Evans played another Marvel hero in a less successful franchise.
22 of 64
Kerry Washington: Alicia, Fantastic Four (2005)
That's right, Fantastic Four gets two entries on the list because what on earth was Kerry Washington doing there?
23 of 64
Eva Mendes: Roxanne, Ghost Rider
This comic book adaptation came out one year before Iron Man made comic adaptations cool, and as a result, most of its actors, including Eva, have likely erased it from their memory.
24 of 64
Colin Farrell: Bullseye, Daredevil
Similar to Ghost Rider, this comic adaptation fell flat, hitting theaters before the current golden age of comic book movies.
25 of 64
Jamie Chung: Chi Chi, Dragonball Z Evolution
This Hollywood version of Japanese anime managed to disappoint both fans for being untrue to the source material *as well as* novices who just thought the movie stank.
26 of 64
Eva Longoria: Detective Martinez, Señorita Justice
This revenge flick (starring a pre-Desperate Housewives Longoria) had a super tiny budget, which probably contributed to its overwhelmingly negative reviews.
27 of 64
Lucy Liu: Sever, Ballistic: Ecks vs. Sever
You'd think Lucy Liu facing off against Antonio Banderas would at least be good enough to merit a 1% Rotten Tomatoes rating…but Ballistic: Ecks vs. Sever manages to score a rare 0%.
28 of 64
Sofía Vergara: Lydia, The Three Stooges
Vergara flexed her comedic chops in The Three Stooges, but the audience wasn't exactly laughing *with* this unnecessary remake.
29 of 64
Will Smith: Lucifer, A Winter's Tale
Smith had a cameo as Satan (?) in this bizarre Colin Farrell vehicle, and his giant CGI fang-mouth wasn't even the weirdest part of his two-minute role.
30 of 64
Cate Blanchett: Irina, Indiana Jones and the Kingdom of the Crystal Skull
It's better for everyone not to mention the last Indiana Jones movie, which not even the grace of Cate Blanchett could save from itself.
This content is created and maintained by a third party, and imported onto this page to help users provide their email addresses. You may be able to find more information about this and similar content at piano.io