Are Christina and Robert From Too Hot to Handle Still Together?
Defined as the perfect blend of 'Love is Blind,' 'Love Island,' and 'Survivor,' Netflix's 'Too Hot to Handle,' is a reality dating program wherein attractive singles from across the globe have to establish meaningful relations while facing a $100,000 celibacy test like no other. In short, the players have to avoid all forms of physical intimacy as they unwittingly find romance on a luxurious island villa. So, with season two having released all its episodes, let's find out if Christina and Robert are a success story or not, shall we?
Christina and Robert's Too Hot to Handle Journey
Christina Carmela and Robert Van Tromp both arrived on the shores of the Turks and Caicos Islands as surprise additions for season 2 of 'Too Hot to Handle' on episode 4. And quite swiftly, they demonstrated themselves to be the ones to watch out for. After all, they did stir up the mood with their initial blind dates. While Christina asked to go out with Cam soon after her arrival, and they both flirted enough to cause friction between him and his resort partner Emily, Robert put on his charm for Carly, but it did not work. Eventually, they set their eyes on one another, resulting in rule breaks.
Finding Robert exceptionally handsome and intelligent, Christina seduced him as soon as they got some alone time, which he gladly reciprocated. A kiss that night turned into a steamy make-out session. Then, it progressed to a 20-second sexual encounter with Christina's hand that lost the house $8,000 in total. But Robert admitted that he believes it wasn't 20-seconds at all; it was probably much less than that. To our disappointment, the duo was subsequently booted off due to their constant disregard for the rules and the experiment's true purpose. Yet they left hand in hand.
Are Christina and Robert Still Together?
From what we can tell, although Christina Carmela and Robert Van Tromp have not openly disclosed their current relationship status, there is a high possibility that they are, in fact, still together. Not only is time or distance no problem for them as they are both based in London, England, but their flirty and endless social media interactions make it clear that they remain on excellent terms. Robert recently posted a snapshot of them kissing on the show, and Christina's comment caught our eye. "Damn, lucky girl 😈," she said, to which Robert replied, "Lucky Guy too I reckon….🤷🏼‍♂️😋"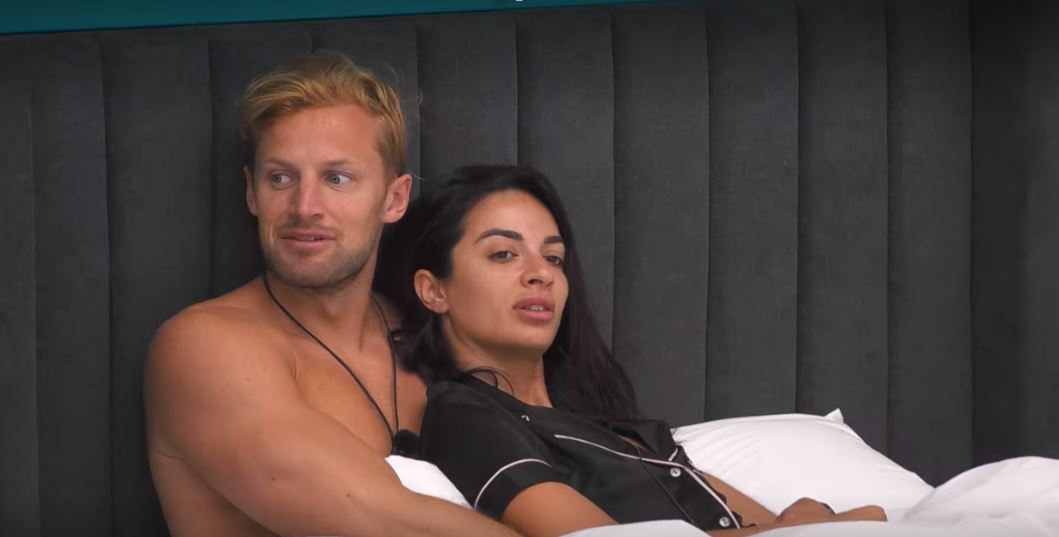 Christina has also used her TikTok account to tease fans about where she stands with her villa lover today by replying to many comments regarding the same, but she's never straightforward and adds side-eye and smirking emojis. She has called him hot, she has complimented his eyes, and even Robert has left some flames and hearts on Christina's social platforms. As if all this wasn't enough, they both shared very similar pictures of them in a pool recently, making it evident that they still hang out. Therefore, we're staying optimistic and hoping that they're happily in a relationship.
Read More: Are Cam and Emily From Too Hot to Handle Still Together?