Best Movies on Disney+ Streaming Guide – Den of Geek
Disney+ is the gift that keeps on giving for anyone who ever grew up listening to "If You Wish Upon a Star" (which is almost all living Americans). More than likely, you spent the first week or two of the service diving into childhood favorites from your youth. But what if you want to venture out? What if you want to watch movies you might remember, vaguely, but don't have memorized by heart? Well, we're here to humbly collect for you the best family movies to watch on Disney+!
20,000 Leagues Under the Sea (1954)
This definitive adaptation of the Jules Verne classic still delights baby boomers and likely a fair number of their grandchildren too. A winsome fantasy about Captain Nemo and his miraculous submarine, the source material novel predicted the future of naval power a century early. Although in Verne and Disney's hands, living on a submarine is quite grand, and more akin to lounging about on a floating mansion complete with library, study, and makeshift ballroom. It also comes with a brilliant performance by James Mason as Nemo, an eco-terrorist who would be even more outraged if he knew about climate change, with Kirk Douglas at the height of his popularity as Ned Land, a chirpy sailor with "A Whale of Tale" to tell.
Enjoy a FREE TRIAL of Disney+, courtesy of Den of Geek!
Did we mention the giant squid though?
Aladdin (1992) 
The movie that made "celebrity voices" in animation a thing, Aladdin still stands as the best use of that novelty. Indeed, one could argue that Robin Williams was never more liberated as an actor than when he played the blue-hued Genie in this classic. Sure, he had to keep it PG, but live-action was never able to keep up with the basis of his humor in stand-up, which relied on a free-flowing stream of consciousness and abstract non-sequiturs. Disney animators could though. And the Genie is a triumph of the art form. The rest of the movie is pretty grand too with its "A Whole New World" magic carpet ride and depiction of Aladdin and Jasmine as gung ho heroes who are fully proactive at achieving their dreams.
The Avengers (2012)
Does this really need any introduction? Joss Whedon's first foray into the Marvel Cinematic Universe shattered box office records and made superhero movie fans realize that anything was possible in this brave new world. The Avengers gathers Earth's mightiest heroes: Captain America, Iron Man, Thor, The Hulk, Black Widow, and Hawkeye, and they try to retrieve the mysterious Tesseract from Loki and save the world. The Avengers marks a new beginning for what this franchise, and all superhero movies to come, are capable of. Avengers assemble!
Captain America: Civil War (2016)
Perhaps Marvel's most ambitious offering, with the largest assembly of superheroes put on screen together (until Avengers: Endgame), Captain America: Civil War surpasses its source material and manages to tell a real story amid all the fisticuffs. Tony Stark is presented as reasonably believing that the Avengers could use some federal oversight. Steve Rogers believes, also understandably, that ceding control to any government will endanger their freedoms and the important work the team does. Just like that, battle lines are drawn and every Avenger (sans Thor and Hulk) head to the best place to have a superhero battle: an airport tarmac.
Darby O'Gill and the Little People (1959)
Before Sean Connery was ordering martinis "shaken, not stirred" as James Bond in Dr. No or sporting red undies in Zardoz (1974), he was Michael McBride in this Disney classic. More incredulous still, he was serenading (and falling in love with) Darby O'Gill's daughter (the missed Janet Munro), albeit in a supporting role. The film follows titular character Darby O'Gill (Albert Sharpe) and his hunt for a pot of gold, despite being repeatedly deterred by the tricky leprechaun King Brian (Jimmy O'Dea). The sets are picturesque and there's music galore, complete with a dancing squad of leprechauns in King Brian's lair.
It's a fun family film, palatable for both parents and kids, with quotable lines such as, "You'll get no more whiskey here today. But, if you care to be sociable, you can have a glass of stout."
Davy Crockett: King of the Wild Frontier (1955) 
Technically an amalgamation of several episodes of Walt Disney's Disneyland television series from the 1950s, the Fess Parker starring Davy Crockett adventures are now best remembered as the films that collected those stories. And that includes on Disney+. So if you want to know the origin of "Davy Crockett Mania" in the 1950s—the Star Wars of its day, with the coonskin cap being the equivalent of Baby Yoda—look no further than here.
A pure distillation of Disney's "Frontierland" nostalgia, and probably the best rendering of ahistorical Crockett mythology in any medium, this film tracks Crockett from his days as a backwoods scout and hunter for Andrew Jackson's army to his rise and fall as Congressman. And of course it ends at the Alamo, where even though the Texans lost in 1836, Davy is simply seen swinging on into eternity. And swings he still does with Fess' folksy charm in this classic time capsule.
The Empire Strikes Back (1980)
The Empire Strikes Back is many fans and critics' choice for best Star Wars film ever. It's not hard to see why. The Empire Strikes Back is a remarkable middle chapter for the franchise and makes the absolute most of its extended cast of characters and nails the concept of a mid-series climax.
read more: The Empire Strikes Back You Never Saw
By the time we rejoin our heroes on the ice planet Hoth, their victory at Yavin is a distant memory. The Rebels are in hiding and the resurgent Empire is out for blood. Darth Vader has a personal mission, too: to find Luke Skywalker, the young Rebel hero who destroyed the Death Star. But how to lure the boy into a trap? By using his BFFs as bait. The Empire Strikes Back is one of the greatest sequels ever made and arguably the best science fiction movie in history. To miss this one is to miss what makes Star Wars a truly great franchise.
Finding Nemo (2003)
The movie that confirmed for good to Disney that Pixar was no fluke—and that they needed to find a way to buy the animation company before losing them forever—Finding Nemo takes its under the sea setting and runs wild. Far more photorealistic than The Little Mermaid or other animated films beneath the waves, the movie makes art out of translucent jellyfish and joy out of surfing sea turtles.
Frozen (2013)
Have you heard of this one? The current heavyweight for highest grossing animated film, Frozen stunned the world when it proved children could still be enraptured under Disney's spell. And why not? Frozen weaves it with masterful sorcery, turning Hans Christian Anderson's tale of the "The Snow Queen" into a good natured and empowering tale of two sisters. It critiques its genre's clichés while creating two iconic princesses in Elsa and Anna (until Elsa is crowned that is). Both have flawed and endearing personalities, and both learn the greatest love in their life is their sibling. It also enjoyed a genuinely surprising twist in the third act and a songbook by Kristen Anderson-Lopez and Robert Lopez that consumed every child and parent's brain one ear-worm at a time.
read more: About That Frozen 2 Ending
Guardians of the Galaxy (2014)
Another one that makes the case for "best Marvel Studios movie." Offbeat, weird, and full of infectious tunes (not to mention an incredible cast), Guardians of the Galaxy is unlike any other entry in the studios' output. Director James Gunn borrows liberally from the best space sagas to tell the tale of a group of intergalactic misfits who end up making a good team. Star-Lord (Chris Pratt), Gamora (Zoe Saldana), Groot (Vin Diesel), Rocket Raccoon (Bradley Cooper), and Drax (Dave Bautista) all make their splendid debut in Marvel's first cosmic adventure.
Guardians of the Galaxy Vol. 2 (2017)
Peter Quill and friends return in the follow-up to Marvel's most unexpected hit. Guardians of the Galaxy Vol. 2 follows the adventures of Quill, Drax, Rocket Raccoon, Gamora and Baby Groot as they race to save the galaxy yet again and uncover some of their uncomfortable lineage and legacies in the process. But the movie packs a surprising emotional punch thanks to performances from Kurt Russell and especially Michael Rooker. This sequel proves that there is real depth behind this franchise in addition to all the spacefaring adventures.
Inside Out (2015)
Pete Docter's masterpiece, Inside Out is a moving and thoughtful meditation on depression and the necessity of anxiety, all told in a child-friendly yarn about colorful emotions on an adventure. Literally, they're colorful emotions, as most importantly defined by the sunny-hued Joy (Amy Poehler) and the blue-as-can-be Sadness (Phyllis Smith). Reimagining every individual's emotions as personalities operating a Star Trek-like control center, Inside Out gives a school clique vibe to all our feelings—visualizing the desire each of us has to ostracize and ignore our inner sadness.
But as the film depicts when Joy and Sadness must navigate the maze of little girl Riley's mind, both are vital to a healthy and happy childhood… or for that matter adulthood too. The movie is a sophisticated work of art while still being utterly entertaining for all ages.
Iron Man (2008)
The first Marvel Cinematic Universe movie remains one of the best. This plants the seeds for everything that comes after, and rocketed Robert Downey Jr. to a new level of stardom. Essential by any measure.
Watch everything Marvel and more with a FREE Disney+ TRIAL, right here!
Downey Jr.'s first go-around as Tony Stark perfectly establishes the entire MCU's tone. Tony's origin story borrows liberally from the comics, but this film from director Jon Favreau quickly adapts everything to a modern context.
Home Alone (1990)
A holiday classic from 20th Century Fox, Home Alone remains a millennial touchstone for this time of year, and a gift that keeps on giving. Yes, everyone remembers the end where Macaulay Culkin tortures two bumbling goons (Joe Pesci and Daniel Stern) as if they're Elmer Fudd, but the movie has a lot more going for it than just slapstick sociopathy. Indeed, when Kevin McCallister isn't being a sadist, this film has an earnest appeal in celebrating the fantasy of a kid living by himself at home.
read more: Is Home Alone the Best Christmas Movie?
When his parents leave Kevin McAllister home alone for Christmas—it was an accident!—he has a luxury house to himself that he lounges about as if it were a giant playground with free ice cream, pizza, and R-rated movie viewing parties. Things go wrong when crooks try to rob the joint, but he handles that in glib fashion, all while sweetly pining for his mother. John Williams' eternally heartwarming score elevates this to true classic status.
Lady and the Tramp (1955)
Ah spaghetti! Meatballs! Dogs! That's amore! It's also the centerpiece for the greatest romance in Disney animation. This is the love story between a pampered Cocker Spaniel named Lady and a stray mutt born on the wrong side of the tracks—appropriately named Tramp. Theirs is a saga that transcends its comical subject matter to softly tease the anxieties of dogs—I've been replaced by the baby!—while also acting as Walt's own personal nostalgia for an upper middle class lifestyle in a turn of the 20th century America that may have never existed. And above all else, it features some amazing songs with the voice of Peggy Lee, plus a more adult romance than anything involving the princesses.
read more: Classic Animated Films on Disney+ Streaming Guide
The Lion King (1994)
Here's the big one—the film that held the title of highest grossing animated movie for nearly 20 years and yet is still rarely challenged when inflation is factored in. Devoid of fairy tales or a concrete source material, Disney animators who were relegated to the "B-team" of a project (the A-list was being saved for Pocahontas) had the freedom to loosely pull from Hamlet in this somber depiction of a royal family in crisis on the African Pride Lands.
read more: How Disney Saved Musicals
With songs by Elton John and Tim Rice, and a propulsive Hans Zimmer score, The Lion King enjoys an aesthetic removed from the rest of the European-based and Menken scored Disney Renaissance films; it also has a tremendous dramatic heft anchored by invaluable vocal performances from James Earl Jones and Jeremy Irons.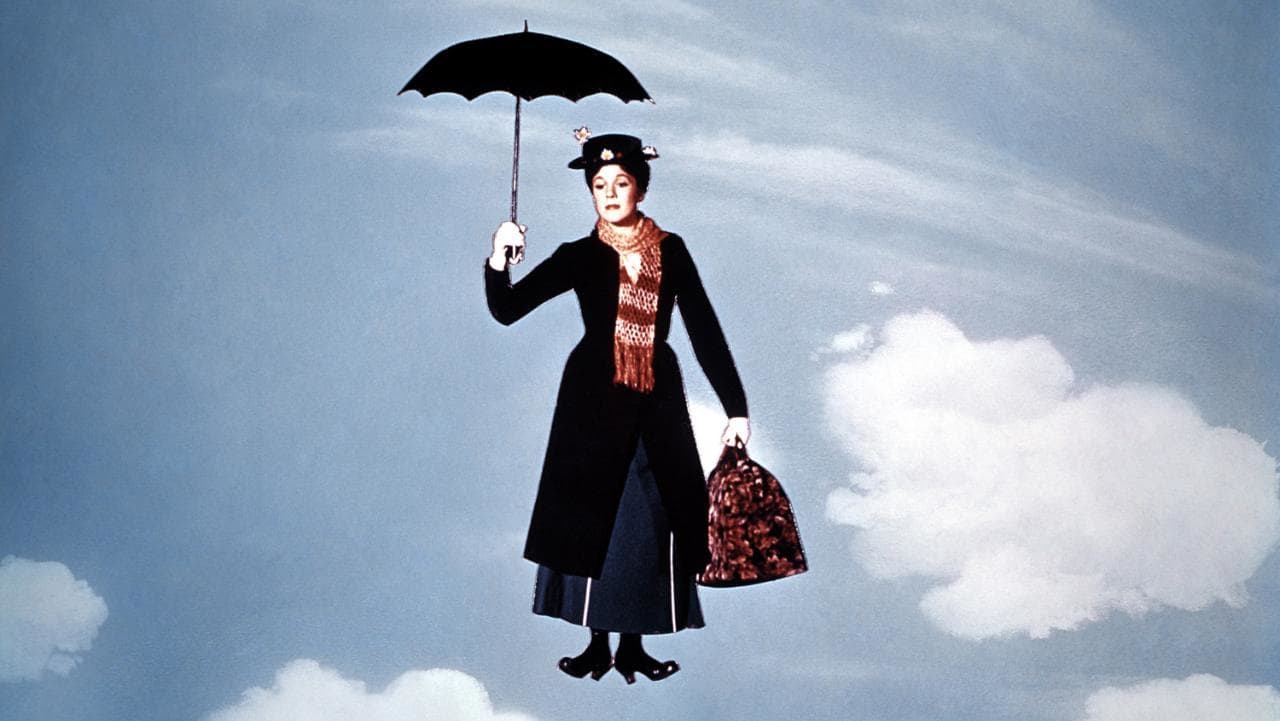 Mary Poppins (1964)
After Jack Warner infamously decided that Julie Andrews was not photogenic enough to star in the movie version of My Fair Lady (in which, to her defense, Audrey Hepburn gave a fine performance despite being dubbed during most of her songs), Walt Disney should have sent him a thank you note. Because what would Mary Poppins be without Andrews' spoonful of sugar?
read more: Best Classic Movie Musicals
A liberal adaptation of P. L. Travers' magical nanny getting up to all sorts of mischief in Edwardian London, Mary Poppins is beloved by countless generations for its family friendly message, delightful cast, and of course Andrews belting it out with her flying umbrella or Dick Van Dyke turning chimney sweeping into a childhood vocation. Walt Disney certainly considered the movie to be the masterpiece of his moviemaking years, and there is still something quite magical about the picture.
Miracle on 34th Street (1947)
The original (and best) version of Miracle on 34th Street is not technically a Disney movie. At least not initially. Produced by 20th Century Fox and released in the height of summer for some inexplicable reason, Miracle on 34th Street soldiered through its odd rollout to become one of the greatest Christmas movies of all time. Centered around the eccentric premise of a mall Santa Claus believing he actually is Father Christmas, this family dramedy is aided by Edmund Gwenn's grandfatherly, if hardly absent-minded, Kris Kringle.
read more: Christmas Movies on Disney+ Streaming Guide
Kringle is here to turn the lives of Macy's executives upside-down and teach them the meaning of Christmas. And at the top of his Naughty-to-Nice reclamation projects is Maureen O'Hara's Doris Walker, who is teaching her child, Susan (Natalie Wood), to never believe in Santa Claus. Well, Mr. Kringle has plenty to say about that, even if it  requires him to go to court and prove he's really Santa!
Pirates of the Caribbean: The Curse of the Black Pearl (2003)
Disney's greatest seafront contribution is the one about Johnny Depp and Keira Knightley sitting on a beach drinking rum. In 2003, nobody was exactly clamoring for a movie version of Disney's oldest and cheesiest of theme park rides. That's probably why the first (and still only good) Pirates of the Caribbean was such a breath of fresh air. In an era of summer movies dominated by formula and Michael Bay sameness, Depp's eccentric and maddening Captain Jack Sparrow left an unforgettable mark on theaters when he arrived in Port Royal on his sinking ship.
Ratatouille (2007)
Critics can sometimes be real villains. Thinking their word is the be-all and end-all in their given field, and even taking pleasure in destroying the reputation of those they consider inferior, there are certainly a few bad apples that most filmmakers are happy to lean into when creating a grotesque stereotype. But Brad Bird does not. While Anton Ego (Peter O'Toole) is definitely the antagonist of Ratatouille, and is smugly condescending to a fault, he also can be won over by the culinary charms of a rodent.
read more: Pixar Movies and Shows on Disney+ Streaming Guide
So can we all, however, when it's a rat as charismatic as Remy (Patton Oswalt). It's a sweet parable about creation that even recognizes the virtues of criticism, so long as the critic is humble enough to concede surprise and delight. And Ratatouille is nothing if not delightful.
Return of the Jedi (1983)
Return of the Jedi faces a huge burden as it attempts to wrap up a story beautifully told in the previous two films. It's not a perfect movie but it is a near perfect conclusion to the initial trilogy. The threequel opens, appropriately enough, right where the entire saga began: with two droids walking through Tatooine. This time, it's as part of a plan to spring Han from Jabba the Hutt's palace in the desert. Tons of undercover hijinks ensue for the first hour of the movie.
Once Han is back on the Falcon, it's time to focus on the Empire, which is building a second Death Star in an effort to finally obliterate the Rebellion. To insure that everything goes as planned, Emperor Palpatine himself arrives on the space station to oversee construction. It's on this giant moon-sized weapon where Luke will face Darth Vader for the last time as well as make the ultimate choice: become a Jedi or allow himself to fall to the dark side.
The Rocketeer (1991)
The best solo Captain America film you probably never saw—yeah, we said it—The Rocketeer is a pulpy World War II era adventure adapted from comic books with an old-fashioned sense of gee-whiz wonder. Still director Joe Johnston's best movie, the film is about a test pilot turned would-be superhero in Hollywood circa 1940. He shoots Nazis, saves crashing biplanes, and romances movie starlets, including Jennifer Connelly as the Bettie Page-inspired "Jenny." Coupled with Timothy Dalton's delicious mugging as a villainous version of Errol Flynn and a soaring score by James Horner, and you have one of the most underrated superhero movies ever made.
Rogue One: A Star Wars Story (2016)
Star Wars standalone films seemed like a dicey proposition in the early days of Disney's takeover. Would audiences still care about one-off movies outside the epic scope of the Skywalker Saga? Well, if they're as good as Rogue One, then yes, absolutely. Rogue One reveals the endless possibilities of non-trilogy films set in a galaxy far, far away. More importantly, it finally gets the concept of a Star Wars prequel right. 
Stream your Star Wars favorites on Disney+ with a FREE TRIAL, on us!
Rogue One tells the story of Jyn Erso, the criminal-turned-rebel-spy who led a mission into the belly of the beast to steal the Death Star plans that would become the McGuffin of the first Star Wars film. But in Rogue One, those plans are actually front and center. Jyn, secret agent Cassian Andor, Force devotees Chirrut Imwe and Baze Malbus, Imperial defector Bodhi Rook, and the hilarious droid K-2SO risk it all to acquire the plans that will lead to the destruction of the Empire's ultimate weapon. 
Sleeping Beauty (1999)
The last animated fairy tale produced while Walt Disney was alive, we'd argue Sleeping Beauty is the best of that era. With a new artistic style produced for 70mm photography, Sleeping Beauty is an exquisite artistic achievement that takes influences from actual medieval tapestries and French Renaissance paintings to create an image that as much draws on past ideas of visual romance and magic as it does the fashionable tastes of the decade it was animated in. It also features sweeping reimaginings of Tchaikovsky's 1890 ballet based on the same French fairy tale.
The Sound of Music (1965)
A movie that has sold more tickets than almost any other film ever made—only Star Wars and Gone with the Wind were seen by more people in theaters—The Sound of Music is a musical epic that's as endearing as it is saccharine. With a sweeping plot that documents the Von Trapp family growing up on the eve of World War II in the Austrian Alps, this is an all-time classic from 20th Century Fox both because of its wholesomeness and its many great songs belted by Julie Andrews.
Star Wars: A New Hope (1977)
The original Star Wars. The only movie in the saga that was once officially only called Star Wars with no subtitle or episode title after it. Even after all these years, it remains a stunning storytelling and technical achievement. This is the space opera you're looking for.
A New Hope is the story of a band of Rebels who must stand up against an evil and oppressive Empire. We meet Princess Leia, a diplomat-turned-soldier willing to die for the Rebel cause; R2-D2 and C-3PO, the robotic chorus of this grand adventure; Han Solo, a smuggler who says he's only in it for the money but actually has a heart of gold; Chewbacca, Solo's faithful companion and walking carpet; Obi-Wan Kenobi, an old hermit living on a desert world who harbors a mysterious past; and, of course, Luke Skywalker, the farm boy who is destined to defeat the Empire and bring about the end of the Sith. It's a classic for a reason.
Swiss Family Robinson (1960)
Ever had a dream of living in a treehouse? We bet it wasn't as grand as the Robinson family's! The source material of one of Disney World's oldest attractions, this appealing fairy tale chronicles a family shipwrecked on a tropical island in the 19th century. They turn it into a paradise by building a home in the trees, and a race track among the ostriches. And when pirates attempt to attack their sanctuary, well they got a tiger for that too…
Toy Story 2 (1999)
Full disclosure: We think Toy Story 2 is probably the best in its franchise. And yes, we're willing to back that up. While the first film is a landmark achievement, and the third film has a sweet tearjerker of an ending, the second one most fully encapsulates the themes of the series. Adding elements of impermanence and obsolescence to the Toy Story universe, Toy Story 2 foreshadowed the heavy themes of the third film, but also tackled them here in a more original way that involved satires of corporatized toy stores, adult toy collectors, and even 1950s television. It also introduced Jessie (Joan Cusack) as an amazing third franchise lead with the most heartbreaking backstory in all of Pixar. Just watch Sarah McLachlan and Randy Newman's "When She Loved Me" and try not to cry.
read more: Toy Story 2 – 5 Disasters That Almost Killed the Classic
(Really though ANY of the Toy Story films could be included on this list. This is just our favorite.)
Tron: Legacy (2010) 
This one tends to go overlooked because it has its problems. It also has the most evocative and artful aesthetic of any live-action Disney film released in the 2010s. A wild swing for the fences as far as blockbuster spectacle is concerned, Joseph Kosinski's vision of the Grid as an icy blue and black dystopia is both hypnotically beautiful and bitterly cold. It's the latter aspect that probably prevented this from being a hit, which is a shame since it also included Jeff Bridges taking his Dude persona to messianic heights, a dazzling musical score by Daft Punk, and Olivia Wilde as a fascinating science fiction concept as a living being manifested by A.I. code. What could've been.
Treasure Island (1950)
Walt Disney's first fully live-action film, this adaptation of the Robert Louis Stevenson novel remains the best cinematic rendering of the tale. A film about epic high adventure, buried treasure, and of course pirates, it tracks a young lad named Jim Hawkins (Bobby Driscoll) as he stows his way onto an 18th century naval expedition to find Billy Bones' buried treasure. But he and his square friends in the officers' quarters aren't keeping a close enough eye on the cook, Long John Silver (Robert Newton). Let's just say the one-legged rapscallion has more on his mind than peeling potatoes as he slowly commandeers the crew and the quest with an iconic performance.
Wall-E (2008)
One of Pixar's greatest triumphs, WALL-E proves you don't need celebrity voices, or even voices, period. Acting as a silent film for large swaths of its running time, this is a love story between a garbage disposal robot and a sleek Apple-esque female robot from the future… and how they can communicate one beep, boop, and zero gravity dance at a time. Arguably director Andrew Stanton's best movie, WALL-E is a science fiction space opera in which the apocalypse is nothing but foreplay for a meet cute that brings about a new garden of Eden for an overweight set of survivors. But that's fine, these folks will find their way while our mechanical Adam and Eve build their own paradise. 
White Fang (1991)
This classic retelling of the Jack London novel is certainly Disneyfied, but it is also pulsating with London's notorious sense of adventure. And why shouldn't it be? It's the story of a boy and his dog, with the boy played by a young Ethan Hawke, and that dog being feral Grey Wolf who's been beaten and abused in dog fights. It's hardly the softest of Disney fairy tales. It also features sequences a bit tense for young ones, such as sled dogs becoming wolf chow in the still effective opening prologue.
Who Framed Roger Rabbit (1988)
Released under the Touchstone label, this movie was considered a risk by Disney executives due to Jessica Rabbit. They needn't have worried. While she might've been drawn (and voiced) as a mix between Veronica Lake, Rita Hayworth, and Lauren Bacall, she was a fatale with a heart of gold, and in a movie that mixed Disney artistry with Warner Bros. anarchy. The only film where Mickey Mouse and Bugs Bunny share space, this Robert Zemeckis hit would be noteworthy for that fact alone. But that he managed to make a sophisticated film noir for all ages that romanticized 1930s Hollywood and celebrated the golden age of animation that sprung from it turns this a stone cold classic. Oh and Bob Hoskins does a song and dance and kisses a 'toon. What more do you want?!