Does F9 Have a Post-Credits or Mid-Credits Scene ?
From its humble beginnings in the streets of LA with a car racing film, the 'Fast & Furious' franchise later drove into the heist genre. It then evolved into a high-stakes espionage thriller franchise that is loved by millions across the globe. Not only has the franchise been a box office juggernaut, but it has also propelled actors such as Vin Diesel, the late Paul Walker, Tyrese Gibson, and Gal Gadot to super-stardom.
The beloved franchise has expanded itself with a spin-off film 'Hobbs & Shaw,' and an animated web series titled 'Fast & Furious Spy Racers.' However, the heart of the franchise remains the main saga (dubbed "Fast Saga") that returned with its ninth installment titled 'F9' (or 'F9: The Fast Saga'). With the franchise's rapid expansion, it is natural to wonder whether the latest installment has a post-credits scene that gives us a tease of what lies on the road ahead. If you are curious to find out whether you should stick around after the credits to get a tease of a sequel, we've got you covered! Here's everything you need to know about the 'F9' post-credits scene.
Does F9 Have a Post-Credits Scene?
In 'F9,' Dominic Toretto and his crew have to stop Dom's brother Jakob (John Cena) and the cyber-terrorist Cipher (Charlize Theron) from succeeding in stealing pieces of technology that could potentially doom the entire world. In their mission, the crew receives help from an old friend in the form of Sung Kang's character Han Lue, and his Tokyo Drift crew. In the end, the crisis is averted, and the crew celebrates with their trademark family barbecue. A touching tribute to Paul Walker plays out, and then the credits roll. However, before fans can wipe out their tears, a bonus scene awaits them. While the movie does not feature a post-credits scene, there is a mid-credits scene that is worth sticking around for. SPOILERS AHEAD!
F9 Mid-Credits Scene, Explained
In the 'F9' mid-credits scene, we see the return of Deckard Shaw (Jason Statham), who is boxing in an empty, dimly lit gym. He is not alone, though, as a voice greets him. It is Han! Shaw looks on in disbelief as we cut back to the credits. As fans might be aware, Han is believed to have died in the events of 'The Fast and the Furious: Tokyo Drift.' However, his accident was retroactively tweaked in a post-credits scene from 'Fast & Furious 6' to reveal that Deckard Shaw killed him as revenge on Dom's crew for what happened to his brother, Owen Shaw.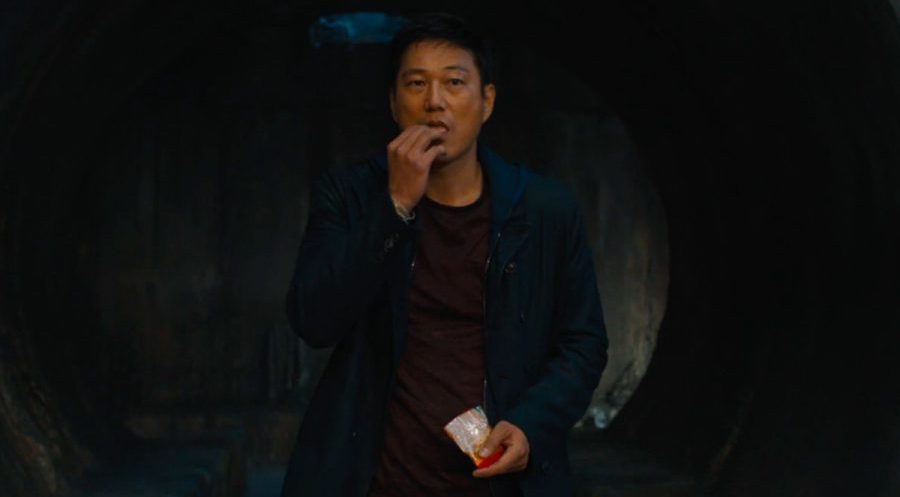 That twist is once again altered in 'F9' to reveal that Han actually faked his death with the help of Mr. Nobody (Kurt Russell). Han is a favorite among the franchise's fanbase. When Deckard revived a seat at Dom's family barbeque after saving Dom's son from Cipher, fans immediately took offense as the family forgave the man who killed Han in cold blood. Now that Han has returned, it is possible that he will try to exact revenge on Deckard, and the mid-credits scene gives us a tease of that impending confrontation.
"Well, I mean, all kidding aside, Han has lost his love, and there's revenge from his side. He needs that. But the question is, how does a person or a man like Han enact his revenge? Is it by force, or is it psychological? Is it emotional? What is it?" said actor Sung Kang in an interview with ComicBook. The mid-credits scene seems to hint that Han will be playing a psychological mind game with Deckard in the future installments, making for an interesting subplot in the action-heavy franchise.
Read More: Where Was F9: The Fast Saga Filmed?