Is She-Ra and the Princesses of Power Season 6 Canceled?
Developed by Noelle Stevenson, 'She-Ra and the Princesses of Power' is an animated series. It is a reboot of the 1985 show 'She-Ra: Princess of Power, ' making it a part of the 'Masters of the Universe' franchise. Set on the fictional planet of Etheria, the show follows Adora and Catra, both orphans who were raised to be soldiers in the Horde. When Adora realizes that Lord Hordak is evil, she decides to join the Princess Alliance and fight against him and his creator, Horde Prime. The series revolves around the evolving relationship between Adora and Catra.
The series initially released on November 13, 2018, to critical acclaim. The show has been appreciated for its layered writing and multidimensional characters. The visual appeal, excellent voice acting, and solid storytelling make it a superb revival series that has attracted a new generation of fans. It has also been widely praised for its LGBTQ-inclusivity and diversity among the characters and the voice cast. Ever since the fifth season ended, the fans have been hoping for a sixth edition. So, if you are looking for updates, here is everything we know.
She-Ra and the Princesses of Power Season 6 Release Date: renewed or Canceled?
'She-Ra and the Princesses of Power' season 5 premiered on May 15, 2020, on Netflix. The fifth season comprises 13 episodes with a running time of 24 minutes each.
As for the sixth season, here is the scoop. In March 2020, it was announced that the fifth season would be the final run for the show. The good news is that the animated series ended on its own terms and was not canceled by Netflix. With the way season 4 ended, it seemed apparent that the storyline was inching towards its conclusion.
The final season is here. #SheRa is now streaming on Netflix! pic.twitter.com/o3M2UWueHC

— She-Ra and the Princesses of Power (@DreamWorksSheRa) May 15, 2020
The creator and showrunner, Noelle Stevenson, spoke to Entertainment Weekly in March 2020 and explained why the series would end after five seasons. She revealed, "I do feel very lucky because we knew from the very beginning what our episode order was, so we got to tailor the story very specifically to how long the show was gonna be. It was tailored to be 52 episodes, the length that it is, and that's a real blessing for a storyteller because it means everything happens when it's meant to happen." She added, "We set out with a plan, we executed that plan, so it's very satisfying to see it wrap up like this. I'm very happy with where we got to with this story." Therefore, it is confirmed that the show concluded naturally.
A special clip from season 5! ❤️❤️❤️ pic.twitter.com/LBG0sj8GLy

— She-Ra and the Princesses of Power (@DreamWorksSheRa) June 18, 2020
In another conversation, Stevenson shared what inspired her to create a series around the character She-Ra. The cartoonist and animation producer told Comicbook, "She's [She-Ra] so often been a character who appears in He-Man's story and he and hers, but I don't think that she's ever had a story that's focused on her, the way that so many stories just were solely about He-Man."
Stevenson continued, "So I think being able to create something that is sort of self-contained and standalone while sort of pressing on some of the bigger mythology of the Masters of the Universe world – I'm really proud to have been able to do that." She also looked forward to seeing the character appear in other projects. Taking everything into consideration, it is unlikely that 'She-Ra and the Princesses of Power' season 6 will ever get made.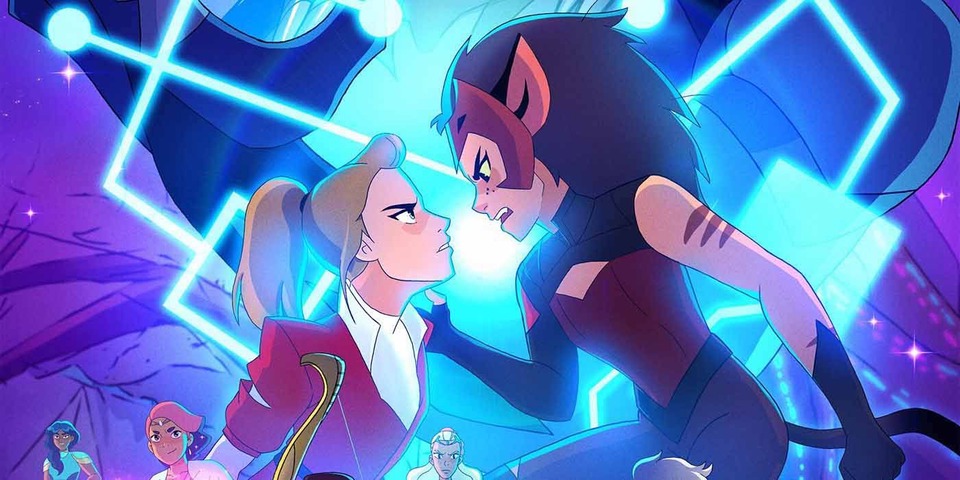 There is no denying that the show has a massive and active fanbase. In 2019, a joke on April Fool's Day went viral as a Twitter post announced that a Tabletop RPG (Role Playing Game) focused on She-Ra and the other characters was going to be launched in 2020. Nevertheless, this triggered an overwhelming response since many people showed interest in making it a reality. Stevenson herself admitted to being open to the idea. In her conversation with Comicbook, she said, "I think that would be really cool. And I know a few people have done sort of unofficial ones."
Stevenson concluded by saying, "So it's something I would be very interested in, but I don't have any other information." She clarified that no formal conversations had taken place regarding the release of an RPG. So, all in all, there is no harm in hoping that we will get to see the characters one way or another. Till then, you can revisit your favorite series on Netflix, which is currently streaming all five seasons of the show.
Read More: Best Animated Shows