Lifetime's A Date With Danger: Everything We Know
'A Date With Danger' by Lifetime is a thriller film that revolves around Nikki, a single mother who moves to a new town for a fresh start. She befriends Liz, another single mother, and even starts dating Gavin. Finally, it feels like things are looking up for her. But little does she know that her life will never be the same when Liz goes missing. Additionally, Nikki begins to realize that Gavin might not be the person he portrays himself to be. You must be curious to know more about this movie, so here is all the information you are looking for!
A Date With Danger Filming Locations
The film distinctly changes its tone from a warm story about friendship and love to a dark thriller. The range of visuals brings out the dramatic shift in Nikki's life. Since location plays a key role in building the setting, you must be wondering where the film was shot. Here is all that we know!
Toronto, Ontario
This film is produced by Neshama Entertainment, a production company based in Toronto, Ontario. Since not much is known about where this thriller was shot, we believe that the city and the surrounding areas might have served as the filming location. After all, Toronto is one of the biggest filming hubs in all of North America, with a well-developed infrastructure to support the production of movies and TV shows.
Apart from the fact that Toronto has an interesting cityscape that allows it to stand in for any city or town, the generous tax incentives attract many filmmakers. This is one of the reasons Toronto is known as "Hollywood North," a title it shares with Vancouver, British Columbia. Some of the well-known films and series that have been filmed in Toronto are 'The Boys,' 'Star Trek: Discovery,' 'The Handmaid's Tale,' 'Suicide Squad,' and 'It.'
A Date With Danger Cast
Lara Jean Chorostecki is seen in the film as Nikki. You might also recognize her from movies and series such as 'Hannibal,' 'X Company,' 'Designated Survivor,' 'Christmas 9 to 5,' and 'Hammer.' Jamie Spilchuk is a Canadian actor who plays the role of Gavin. Some of his notable credits include 'When Hope Calls,' 'Christmas in Love,' 'Hard Rock Medical,' 'Good Witch,' and 'Murdoch Mysteries.'
Ipsita Paul essays the role of Liz Cole in this thriller. The Canadian actress and author appears in series like 'The Handmaid's Tale,' 'General Hospital,' and 'All My Children.' Other cast members we see in the film are Matt Wells (Dan), Kayla Hutton (Anna), Jaida Grace (Brooke), and Raven Dauda (Detective Banks).
Is A Date With Danger Based on a True Story?
No, 'A Date With Danger' is not based on a true story. The storyline of the film revolves around unhealthy attachment patterns and interpersonal relationships. Gavin is hellbent on getting rid of obstacles that threaten his relationship with Nikki, and that is when things get really twisted. The storyline seems familiar because we have come across characters like Gavin several times. Penn Badgley's Joe Goldberg in 'You' is one such example.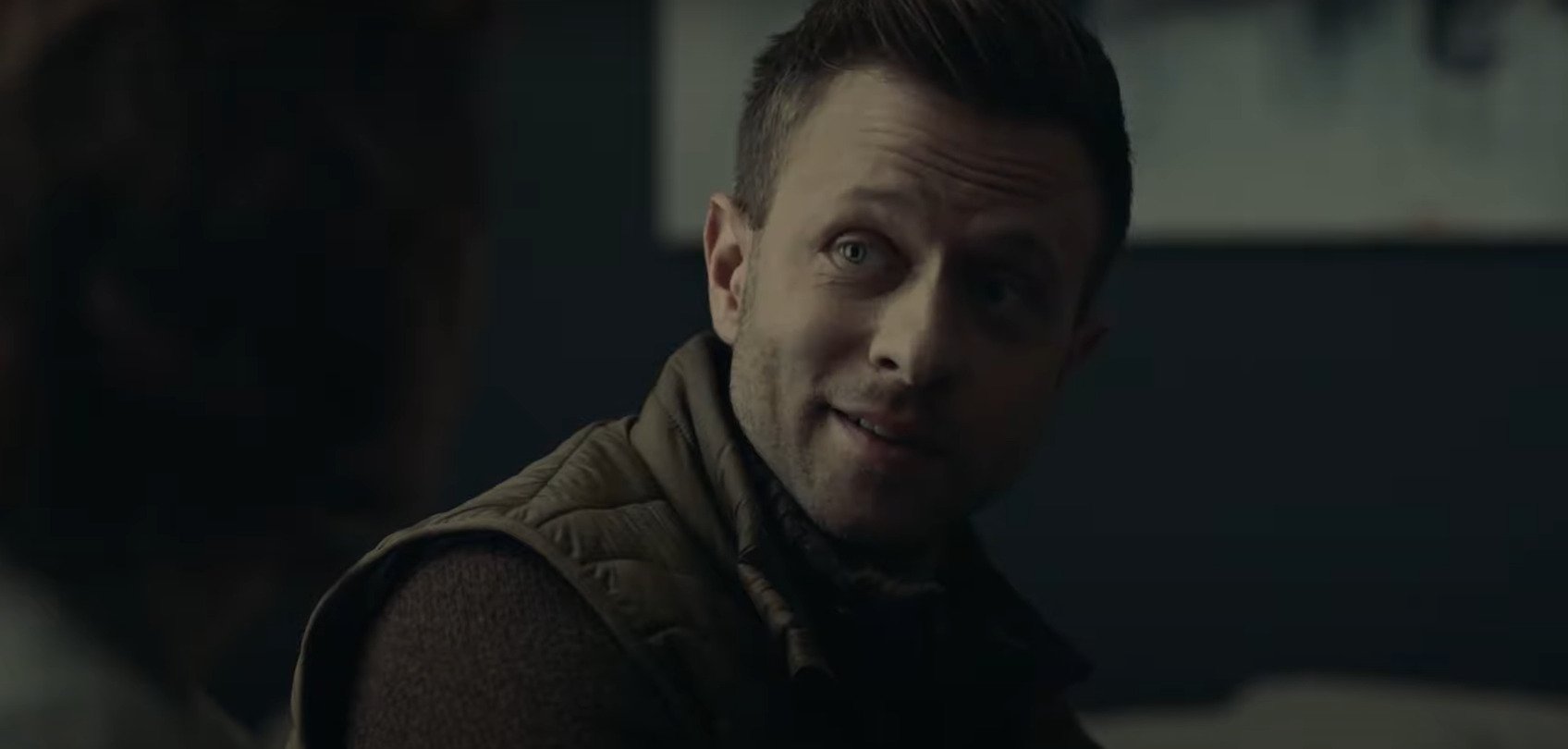 People like Gavin are charming and seem to be attentive, which makes them very attractive. He is good-looking; he gives Nikki expensive gifts and even wants her to move in with him. While Nikki is flattered by the attention she receives from him, Liz warns her about moving too fast in the relationship. She points out that Dan used to do the same things Gavin does but eventually, things got ugly.
All the things Liz talks about are indicative of what is called "love bombing." According to experts, behaviors like these are used to open a doorway for abuse in the future and are often associated with people who show traits of narcissism. So, when Nikki tells Gavin that she is not ready for the kind of commitment he is looking for, it unleashes his dark side. While the film is not based on a particular person's life, many people across the world might have experienced something similar.
Read More: Best Lifetime Movies