Patricia Mills Murder: Where is Delbert Mills Now?
Investigation Discovery's 'Welcome to Murdertown' is a series that delves deep into those homicide cases that transpired in small, insular, and tight-lipped communities. Because of these aspects, investigators were hindered for years until a sudden breakthrough came to light, resolving the matter for good. So, of course, season 1 episode 3, entitled 'Out of the Ashes,' chronicling the baffling 2003 murder of Patricia Leigh Mills, is no different. From love to relationships to betrayal, this case has it all. So now, if you're curious to know its details, we've got you covered.
How Did Patricia Leigh Mills Die?
Born on March 5, 1972, in New Bern, North Carolina, Patricia Leigh "Wiley" Mills was one of five siblings and seemingly content with her adult life in Goliad County, Texas. At the age of 31, she dwelled in a lovely home at 127 South San Patricio Street with her husband of about eight years, Delbert Andrew Mills, and their six-year-old son. With her being a housewife and member of the Assembly of God and Delbert working at an industry manufacturing septic tanks, they were an idyllic family, by all accounts. However, all that changed drastically on the morning of June 25, 2003.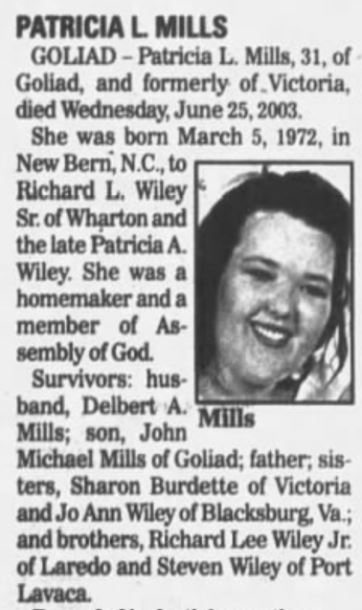 On that fateful day, the Mills' family residence caught on fire shortly after Delbert left for work, while Patricia and their son were inside. The toddler managed to escape the blaze without any injuries, but his mother was not that fortunate. In fact, the emergency services could only locate Patricia's partially charred remains. As per her autopsy and an analysis of the home, her death resulted from asphyxiation through smoke inhalation and carbon monoxide poisoning caused by the suspicious fire.
Who Killed Patricia Leigh Mills?
For years, Patricia Leigh Mills' passing and the house flames were ruled to be an accident due to the actual cause of the latter never being identified. No matter the numerous probes and forensic examinations the authorities undertook, only speculations came to light. Therefore, the case soon went cold and was closed. Yet, Patricia's family never gave up and kept pushing for a reinvestigation, knowing that something had to be wrong. Eventually, in 2011, an official looked into the case file and noted numerous causes of concern, leading to the matter being reopened for good.
The Texas Rangers, the County Sheriff's Office, and the Constables Office assisted each other in Patricia's murder inquiries, and all of them promptly zeroed in on her then-husband, Delbert Mills, as the suspect. Not only had he spoke about murder and his skill of starting untraceable fires to several people in the weeks, months, and years following his wife's demise, but he had also offered to "get rid of" his friend's partner by doing the same. In addition to that, Delbert had admitted to a few friends that he never loved Patricia and was hoping to leave her for Allison Salinas, his girlfriend.
Therefore, Delbert's motive, authorities alleged, was that he wished to get out of his legal union without having to pay alimony or child support while also benefiting from Patricia's $15,000 life insurance policy. The source of the blaze was still unknown, but Delbert gave a clue for the same during his interrogation in late November 2011, explaining that it probably started near the front door, where he might have dropped a burning cigarette in an ashtray with coal oil in it. The detectives who interviewed him stated that although Delbert appeared to be mourning and sorrowful, he was not.
Where is Delbert Mills Now?
Delbert Mills was charged and arrested for his wife's murder in December 2011, and he stood trial for the same roughly a year later. During the court proceedings, his defense attorney claimed that he was "just being goofy" when he made the homicide and fire remarks, which, although distasteful, did not prove his guilt in any way. On the other hand, the prosecutors said that the evidence and testimonies from the individuals Delbert had given these comments to were proof enough, especially as it was also reported that he and Patricia had gotten into an argument that June morning.
Ultimately, on January 17, 2013, observing how Delbert had not only killed his wife, Patricia Mills, but also attempted to slay their son, a district judge found him guilty of capital murder and sentenced him to life in prison. This harsh term came after the state also revealed that he wasn't registered as a sex offender despite having been convicted of sexually assaulting a 12-year-old girl in Arkansas years prior. Hence, at 54, Delbert Andrew Mills is currently incarcerated at the Bill Clements Unit in Amarillo, Potter County. As per state records, he will be eligible for parole in November 2041.
Read More: Patricia Mery's Murder: Where is Anne Trovato Now?