The Best Bomber Jackets Will Make You the Leading Man of Your Own Movie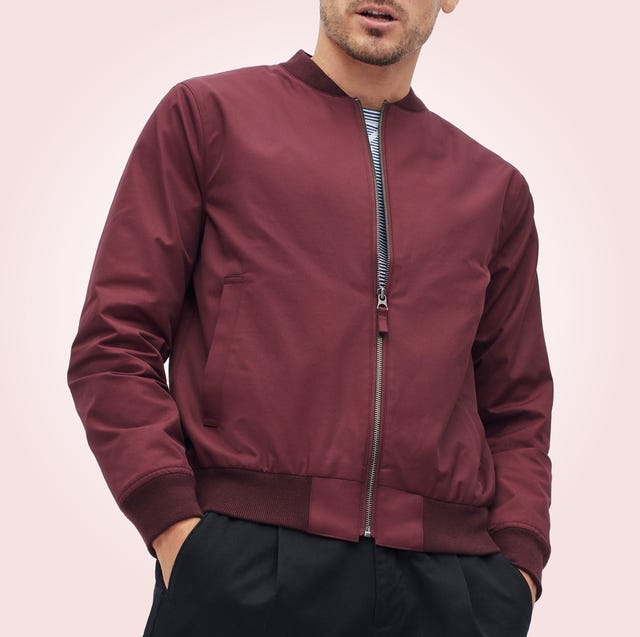 Courtesy
There's a cool factor that is instantly recognizable when wearing a great bomber jacket. Men—the ones who live at the frontal lobes in our brains, influencing our fits—have been wearing the style with gusto since what feels like time immemorial. It's a closet staple, a tried-and-true article of clothing that never falters. Pundits may decree the return of this or that, or herald the emergence of what have you, but the best bomber jackets continue to dominate.
Let's trace its origins for a hot minute to get a better understanding. The modern bomber took flight in the early 1950s, when the U.S. Army Corps enlisted Dobbs Industries to make nylon jackets that were lightweight, durable, and water-resistant, allowing pilots to move freely while protecting them from the elements. It was called the MA-1, and function was the cornerstone. But its form—a fitted waist, roomy chest and arms, and ribbed collar and sleeves—was too good to just wear on-duty. In fact, it soon attracted the attention of Hollywood, and would have a starring role in films for decades to come. Marlon Brandon in A Streetcar Named Desire, Steve McQueen in The Hunter, Alain Delon in Once a Thief, Ewan McGregor in Trainspotting, Ryan Gosling in Drive, and Daniel Craig in nearly all his Bond flicks are just a few—yes, a few—iconic examples.
In the real world, Alpha Industries (Ye knows what's up), an ancillary to Dobbs, began producing bombers for the masses. The style was soon adopted by blue-collar workers and British skinheads—ranging from the far-left to the far-right; it was a broad and often apolitical subculture—in the '60s, '70s, and '80s. A decade later, the fashion industry caught wind, and the jacket became a staple on fashion runways, promoted by leading designers all the way to the present day. Case in point: For the fall 2021 season alone, the style showed up oversized and in leather at Prada, bulky and futuristic at Rick Owens, fanciful and highly embroidered at Dries Van Noten, and sleek and super fitted at Saint Laurent.
That's the beauty of the bomber: It has one mold that can be accessorized every which way, or not. It doesn't just fit into one timeframe or one subculture, but many. It is completely adaptable. And should you want your style to soar, make sure to cop the jacket that was actually made for that. Movie history and fashion history—heck, all history—show that it's here to stay.
Want essential shopping tips on the regular? Sign up for Esquire Select.
Bomber Jacket
If you're a no-frills, cost-saving fella, this streamlined bomber from H&M—at a pretty nice bargain—is the just what you need when chilly temperatures start creeping in.  
Icon Bomber Jacket
Topman
nordstrom.com
$65.00
Topman's sleek take is cut from a sturdy twill that'll stand up to anything the elements throw at it this fall. 
Uniform Bomber Jacket
Everlane
everlane.com
$98.00
Everlane is so confident in its Uniform collection that the retailer backs any product from the line with a 365-day guarantee. If your brand-new bomber suddenly goes kaput, the company will replace it with a new one.

Classic Bomber Jacket
Calvin Klein
amazon.com
Lightweight and waterproof, consider your all-day fall fit found with this classic black option from Calvin. 
Quilted Bomber Jacket
Random Identities
ssense.com
$125.00
A fully lined quilted bomber made out of technical satin for the tactile guys out there. 
Unlined Bomber Jacket
The Swoosh's bomber, from its Sportswear Premium Essentials line, is made of mid-weight, crinkle-woven fabric and comes complete with pockets galore. It's the perfect fit for runners, bikers, and anyone who feels the need for speed. 
MA-1 Bomber Jacket
ALPHA INDUSTRIES
alphaindustries.com
$160.00
The MA-1 is still setting the standard after all these years. 
The Boulevard Bomber
Bonobos
bonobos.com
$169.00
Bonobos's bomber in burgundy is perfect for strolls down sidewalks, piers, and, well, boulevards. Just check out the name. 
Vegan Suede Bomber Jacket
Banana Republic
bananarepublic.gap.com
$179.00
Vegans, rejoice! Banana Republic has got your back with a suede imitation that is just as smooth and buttery as the real thing.   
Marlon Bomber Jacket
Rails
saksfifthavenue.com
$228.00
Fan of A Streetcar Named Desire?  This Marlon bomber will give you the swagger of Brando. Though it's unclear if this military-style jacket is named after the Oscar winner, it might as well be.
Regular Fit Knit Bomber Jacket
Vince
nordstrom.com
$229.90
Brooklyn Circus Knit Bomber
Todd Snyder
toddsnyder.com
$319.00
In collaboration with Champion and Ouigi Theodore's The Brooklyn Circus, Todd Snyder offers up a varsity-inspired bomber jacket that celebrates the history of the borough. This is a circus act that shouldn't be missed.
Patch Bomber JacketKhaki
Fred Perry x Nicholas Daley
endclothing.com
$475.00
Scottish-Jamaican designer Nicholas Daley brings his signature attention to detail to a patch bomber jacket made in collaboration with iconic British label Fred Perry. 
Bogota Shell Bomber Jacket
John Elliott
mrporter.com
$515.00
The man who made sweatpants cool again also happens to make a pretty damn cool bomber. 
Lucid Packable Bomber Jacket
Stone Island
saksfifthavenue.com
$528.50
Made of super-lightweight nylon, this bomber jacket is the ultimate throw-and-go jacket. Note the name. 
Isaacs Panelled Bomber Jacket
Wales Bonner
farfetch.com
$564.00
Wales Bonner is all the buzz. Case in point: This killer black-and-yellow paneled bomber jacket.
Down Kirkfield Bomber Jacket
Canada Goose
ssense.com
$750.00
Canada Goose is all about heavy-duty outerwear, and this down bomber—with two-way zip closure, herringbone straps, and patch pockets—definitely lives up to the brand's reputation.  
Zip-Up Fitted Bomber Jacket
Rick Owens
farfetch.com
$1,654.00
Rick Owens has streamlined his futurist sensibilities, eschewing the volume that he showed on runway for a much more tapered fit. Still, his detailing (i.e. the hella cool zippers) remain.
Neuchatel Quilted Bomber Jacket
Brett Johnson
saksfifthavenue.com
$2,385.00
When it comes to premium fabrics with a decidedly luxe feel, Brett Johnson is the name to know. To wit: This subtly quilted bomber made of silk.
Teddy Print Bomber Jacket
Saint Laurent
saksfifthavenue.com
$2,490.00
Saint Laurent's collections are seldom without a bomber. Designer Anthony Vaccarello is seemingly one of the style's biggest fans, and he consistently raises the bar of what the jacket can be. Here's proof. 
Astrology Beaded Bomber Jacket
Dries Van Noten
saksfifthavenue.com
$3,395.00
Follow the stars with this embroidered number from the beloved Belgian designer. 
Nappa Leather Bomber Jacket
Prada
farfecth.com
$6,600.00
If you have the coin and are looking for something large and in charge, it doesn't get any bigger and bolder than this straight-off-the-runway leather bomber from Prada.  
Barry Samaha
Barry Samaha is the style commerce editor at Esquire, where he covers all things fashion and grooming.
This content is created and maintained by a third party, and imported onto this page to help users provide their email addresses. You may be able to find more information about this and similar content at piano.io