Where Are Tai, Rainn, and Brooke Sheppard Now?
Netflix's 'Sisters on Track' is a coming-of-age documentary film about the life and experiences of Tai, Rainn, and Brooke Sheppard, who excelled on their track and field team and made it to the Junior Olympics while living in a homeless shelter with their mother. Chronicling the metaphorical and literal sisterhood that helped them thrive and reach where they are today, this heartwarming movie demonstrates how dreams can become a reality when youngsters cross paths with mentors. So, if you are curious to know what these athletes are currently up to, we've got the details for you.
Who Are Tai, Rainn, and Brooke Sheppard?
Tai, Rainn, and Brooke Sheppard first came into the limelight around 2016, when they all competed at that year's AAU Junior Olympics and displayed the kind of talent that is rarely seen amongst youngsters facing such hard times. After all, the trio resided with their mother, Tonia Handy, at a shelter for the homeless in Brooklyn, New York, following their half-brother's fatal shooting in 2013. This grief led to difficulties, and in 2015, they just found themselves needing support. Eventually, once a babysitter signed them up for a track meet on a whim, the sisters gained almost instant success.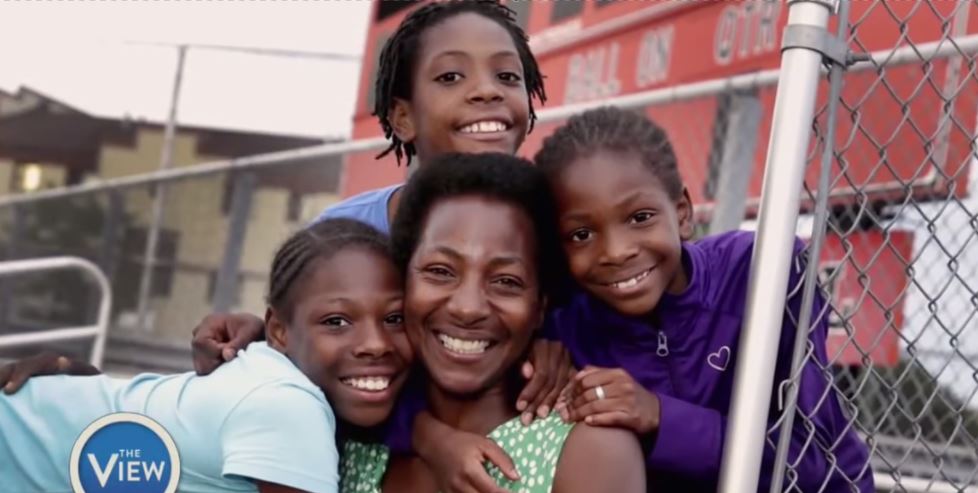 Tai, Rainn, and Brooke subsequently earned praise and the honor of being named Sports Illustrated's 2016 SportsKids of the Year. Their experiences were one of a kind, and the acclaim led to the Tyler Perry Foundation assisting the family in renting an apartment for two years — until Tonia can get back on her feet. Although the eldest of the three girls, Tai, is a worrier by nature, Brooke, the youngest, was the one who stated that she never thought they'd have a place to call home again. Neither of them liked their arrangement, but they stuck by their loving and caring mother.
"In the shelter, I thought it was all over," Brooke remarked in the movie. "I thought we were just going to be homeless for the rest of our life. I guess that was in the beginning when we first moved there, because I think the shelter was the worst shelter we've been in. And we've only been in two." Due to this dramatic shift into a situation where they had no privacy and no free rein, the sisters struggled, and Brooke even began to fall behind in school. However, their mother urged them not to give up and vowed to do her best, which she lived up to in every way, whenever possible.
Headed by Coach Jean Bell, the Jeuness Track Club has also had a major impact on the Sheppard sisters, especially concerning how they deal with their emotions and what they learn about the world. With the club's primary purpose being confidence-building and equipping young girls with the skills to attain scholarships for their higher education, discipline and guidance are significant aspects. Tai, Rainn, and Brooke know this first-hand and realize that they'll face harsh consequences if they fail to live up to the academic and behavioral expectations — all for growth and a better future.
Where Are Tai, Rainn, and Brooke Sheppard Now?
Despite being renowned athletes, Tai, Rainn, and Brooke Sheppard prefer to stay well away from the limelight right now. From the documentary, we know that Tai and Rain are currently enrolled at Bishop Loughlin Memorial High School, a private, Roman Catholic, co-ed institution in New York City, New York. Plus, they both have a scholarship that keeps their family from fretting about finances. Tai and Rainn enjoy the adrenaline that goes hand in hand with field sports, yet they hate the pressure. Still, they'll continue to race because they love it and their futures depend on it.
As an incredibly smart and talented teen who is also a great singer, all the while being a little boy crazy, Tai wants to either be a Track Olympian or a Biochemist when she grows older. She aspires to leave this world a better place than how she found it. Rainn is similar to her sister in the sense that she, too, wants to leave her mark on the world, but she wants to do it as a professional athlete. No injury or obstacle can stop her. As for Brooke, she dreams of becoming an artist. There is no shortage of talent in this family, so they still dominate field sports while being based in Brooklyn.
Read More: Where is Tonia Handy Now?